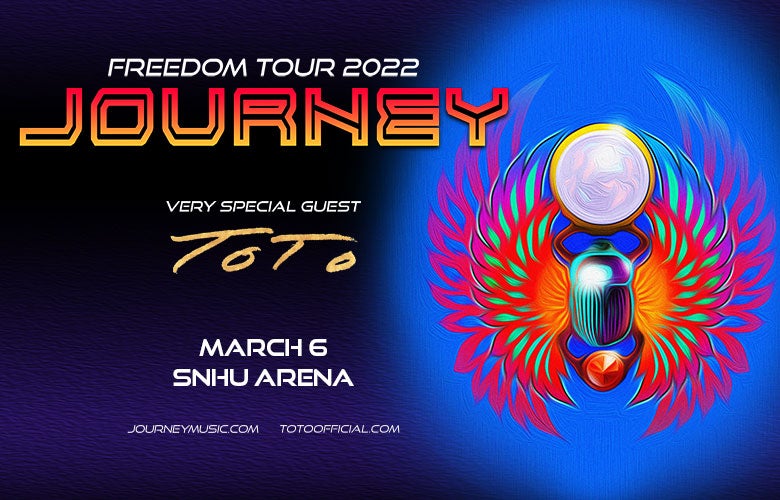 Journey
with very special guest Toto
Date

Mar

6

th

, 2022

Event Starts

7:30 PM

Ticket Prices

$45.00 - $125.00

On Sale

On Sale Now

Sam Adams Lounge
Journey
with very special guest Toto
Event Details
Rock & Roll Hall Of Fame legends JOURNEY announce additional shows with very special guest TOTO including SNHU Arena in Manchester, New Hampshire on Sunday, March 6 as part of their Freedom Tour 2022.
JOURNEY, one of the most legendary rock bands of all time, will take the stage in over 40 cities across America with their catalog of global chart-topping hits, including "Don't Stop Believin", "Any Way You Want It", "Faithfully", "Lights" and more. JOURNEY features founder Neal Schon (lead guitarist), Jonathan Cain (keyboards, backing vocals), Arnel Pineda (lead vocals) Jason Derlatka (keyboards, backing vocals), and Deen Castronovo (drums, backing vocals).
"It's that time - time to get back to where we are used to being - on Stage!" says Neal Schon. "We are looking forward to shifting into high gear and bringing you the best show possible. The band is running on all 12 cylinders and very excited! Please come and join us once again for an evening full of rocking stage connection fun. See you soon Friends."

TOTO's Steve Lukather and Joseph Williams share, "We are looking forward to staging 40 shows with Journey across the U.S. Most of the guys are lifelong friends, and it'll be a pleasure to spend quality time together. Can't wait to get back out on the road in the coming weeks."

ABOUT JOURNEY
Since the group's formation in 1973, JOURNEY has earned 19 top 40 singles, 25 gold and platinum albums, and has sold nearly 100 million albums globally. Their "Greatest Hits" album is certified 15 times-platinum, making JOURNEY one of the few bands to ever have been diamond-certified, and their song "Don't Stop Believin'" has been streamed over one billion times alone.

JOURNEY was inducted into the Rock And Roll Hall Of Fame in 2017, and 2018's co-headlining tour with DEF LEPPARD was the band's most successful tour to date, landing them in the Top 10 year-end touring chart with more than 1 million tickets sold, and earning them the prestigious Billboard "Legends Of Live" touring award. March 2019 saw the release of "Escape & Frontiers Live In Japan", a live DVD/CD set from their concert at the Budokan in Tokyo featuring the band's first-ever performances of the albums "Escape" and "Frontiers" in their entirety. JOURNEY has also received a star on the Hollywood Walk Of Fame and were inducted into the Hollywood Bowl Hall Of Fame. Additionally, the band is the subject of the award-winning documentary "Don't Stop Believin': Everyman's Journey" about the band's resurgence upon adding Arnel Pineda as lead singer after founding member Neal Schon discovered the Philippines native on YouTube.

ABOUT TOTO
Over the past several years, TOTO have had a major renaissance in popularity like few bands at this point in their career. Their 40th anniversary in 2018 was marked by them releasing a brand new Greatest Hits album (40 Trips Around The Sun) and embarking on their most successful worldwide tour to date. Few ensembles in the history of recorded music have individually or collectively had a larger imprint on pop culture than the members of TOTO. As individuals, the band members can be heard on an astonishing 5000 albums that together amass a sales history of a half a billion albums. Amongst these recordings, NARAS applauded the performances with more than 200 Grammy nominations.

Collectively TOTO has over two billion streams worldwide on all streaming services. Just last year one of their biggest hits "Africa" went from being a Platinum single to being recently recertified 6X Platinum. The band has found a new generation of fans. With now 40+ years together and literally thousands of credits, including the biggest selling album of all time: Michael Jackson's Thriller, and accolades to their names, TOTO remains one of the top selling touring and recording acts in the world. They are the benchmark by which many artists base their sound and production, and they continue to transcend the standards set by the entire music community, being simply synonymous with musical credibility. They are pop culture, and are one of the few 70's bands that have endured the changing trends and styles continuing to remain relevant while enjoying their multi-generational global fan base.
Health & Safety Requirements
SNHU Arena remains committed to delivering a superior experience. We will continue to follow all government mandates, monitor regulations and local cases to inform our policy and keep events as safe as possible for our fans, artists, and staff. While there are no current federal, state or local government mandates in place, everyone that enters SNHU Arena will be encouraged to wear a face mask or covering.
The COVID-19 pandemic is a fluid situation, and as such, we cannot guarantee that the artist or promoter of the event will not put a requirement for mask use, proof of vaccination or proof of negative COVID-19 test in place at a later date. Please note that government mandates, venue protocols and event requirements are subject to change at any time, so please be sure to check back regularly for updates. COVID-19 vaccination requirements also vary by event, so it's important for you to continue to check your event page on our website to confirm details prior to attending the event.
Please note that the arena will be using the following security procedures for all events at the arena. Please plan accordingly.
Walk thru metal detectors at all entrances of the facility; all patrons will walk through a metal detector prior to gaining access to the arena. If needed, security will perform pat downs on patrons in addition to the metal detectors
Bags larger than 12" x 6" x 12" will not be permitted into the arena, this includes backpacks
SNHU Arena's CLEAR BAG POLICY allows patrons to bring their personal belongings in a clear tote not to exceed 12" x 6" x 12"
Wristlets are permitted but may not exceed 4" x 6" x 1"
Purses, backpacks and diaper bags are no longer permitted inside of SNHU Arena
Camera policy is set by the show, best practice suggests no cameras for events
No weapons of any kind will be permitted into the arena
No outside food or beverage will be permitted into the arena
We are a cashless facility! All points of sale within the venue are no longer accepting cash. Please be prepared to pay with your credit card, debit card or mobile pay. Thank you!
The Arena is a no smoking facility, there is no designated smoking area
We encourage you to plan accordingly for traffic in the City, parking and long lines when entering the arena.