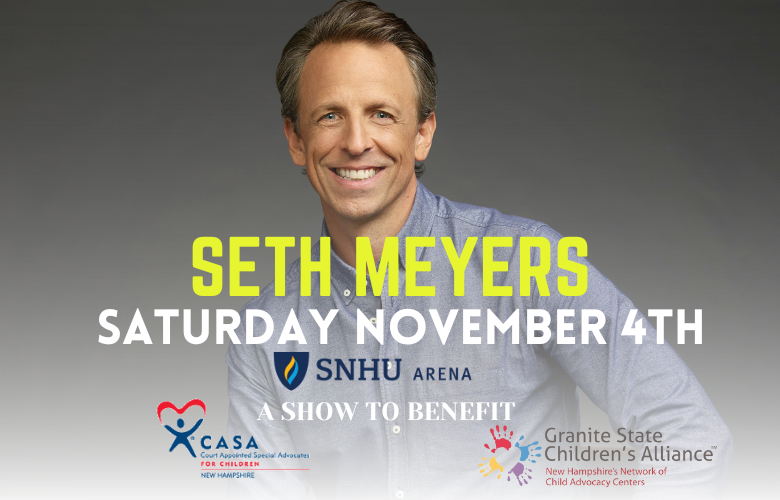 SETH MEYERS LIVE!
In Support of CASA and Granite State Children's Alliance
Date

Nov

4

th

, 2023

Event Starts

8:00 PM

Ticket Prices

$100.00 - $250.00

On Sale

On Sale Now

Sam Adams Lounge
SETH MEYERS LIVE!
In Support of CASA and Granite State Children's Alliance
Event Details
New Hampshire's own Seth Meyers is returning home for a special show in support of our children. Seth's first performance in 2018 for CASA of NH and the Granite State Children's Alliance was a huge success, and no doubt the show on November 4 will be just as hilarious – and impactful. Proceeds benefit both organizations, so enjoy a night of laughter and fun with the knowledge that you're helping children throughout the state.
About CASA of New Hampshire
Court Appointed Special Advocates (CASA) of New Hampshire provides a voice for New Hampshire children and youth who have experienced abuse and neglect by empowering a statewide network of trained volunteers to advocate on their behalf so they can thrive in safe, permanent homes. Since its founding in 1989, CASA of NH has advocated for nearly 12,000 children in court, giving them a chance at a better future.
In fiscal year 2023, CASA of NH volunteers served 1,549 children throughout the state, collectively donating 87,585 hours and making more than 13,000 visits to children. These volunteers are everyday people who come from all backgrounds – experience in law or social work is not required. If you have the heart to help, we can teach you the rest. For anyone interested in learning more about volunteering, CASA of NH offers virtual information sessions twice a month. These are a wonderful opportunity to listen to or talk with both staff and current volunteers. Visit www.casanh.org to register for an information session or to learn more about CASA of NH.
The Granite State Children's Alliance and The Network of New Hampshire's Child Advocacy Centers (CACs) served 1,999 child abuse survivors last year. For many of those children and their families, their forensic interview at the CAC is the incredibly challenging but crucial first step in healing. The CAC model, is a data-driven, evidence-supported approach, defensible in court and deemed best practice for child abuse investigations by the U.S. Department of Justice and our own Attorney General's Office. CACs have been at the forefront in intervening and preventing child abuse and child exploitation for over 20 years in New Hampshire.
New Hampshire CACs also lay the groundwork for next steps in the healing process, making referrals for specialized behavioral health and medical services, and following up with families to offer support and ensure child victims are receiving the care they need. Our network is working collaboratively to develop and expand our service model to include trauma-informed mental health and specialized medical services onsite, reducing barriers to treatment that many families experience. Children who report abuse in New Hampshire have more access to support services than ever, but there is still a lot of work to be done. Visit our website to learn more about what we do.
Please note that the arena will be using the following security procedures for all events at the arena. Please plan accordingly.
Walk thru metal detectors at all entrances of the facility; all patrons will walk through a metal detector prior to gaining access to the arena. If needed, security will perform pat downs on patrons in addition to the metal detectors
Patron bags will be searched and tagged once allowed into the arena
Bags larger than 9" x 12"x 4" will not be permitted into the arena, this includes backpacks
Camera policy is set by the show, best practice suggests no cameras for events
No weapons of any kind will be permitted into the arena
No outside food or beverage will be permitted into the arena
We are a cashless facility! All points of sale within the venue are no longer accepting cash. Please be prepared to pay with your credit card, debit card or mobile pay. Thank you!
The Arena is a no smoking facility, there is no designated smoking area
We encourage you to plan accordingly for traffic in the City, parking and long lines when entering the arena.