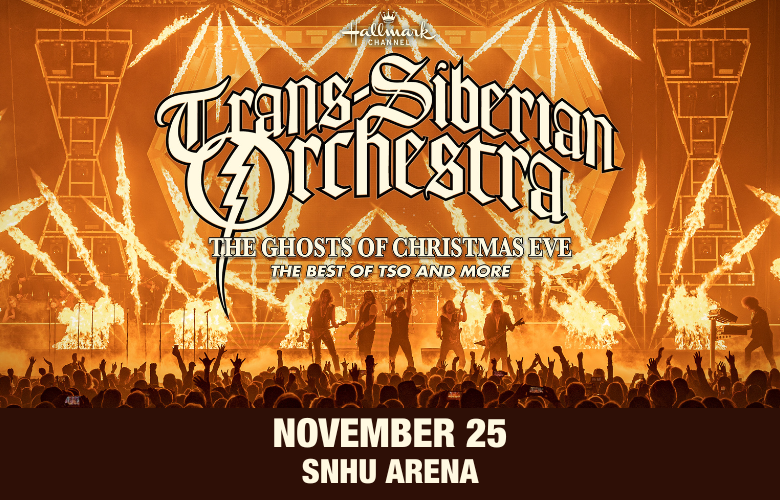 TRANS-SIBERIAN ORCHESTRA
The Ghosts of Christmas Eve - The Best of TSO and more
TRANS-SIBERIAN ORCHESTRA
The Ghosts of Christmas Eve - The Best of TSO and more
Event Details
Multi-platinum, progressive rock group Trans-Siberian Orchestra (TSO) - announced the dates for its highly anticipated 2022 winter tour, "The Ghosts of Christmas Eve – the Best of TSO & More." After its first year off the road in more than two decades, TSO made a triumphant return to touring in 2021 with a 25th anniversary celebration of Christmas Eve and Other Stories. For 2022, TSO brings a completely updated presentation of the unforgettable, multi-generational holiday tradition, "The Ghosts of Christmas Eve," to 60 cities across the nation.

Presales for TSO fan club members will be held on Thurs., Sept. 8 at 10 a.m. local time and Fri., Sept. 9 at 10 a.m. local time. The public on sale is set to begin on Fri., Sept. 16 at 10 a.m. local time. Beginning with the public on sale, special $29* tickets will be available for one week or while supplies last.

Keeping with the O'Neill's vision (Paul O'Neill, and his wife Desi), TSO remains one of rock's most charitable bands. Once again, thankfully, TSO will give at least $1 from every ticket sold to charity. To date, approximately $18 million has been donated by the group. Desi O'Neill said, "we want to thank the fans so much for the kindness they showed in coming out last year. It meant the world to our family. Moreover, the credit for any charitable donation is due to you not us. The only way we are able to help all is because of you."
A product of the imagination of TSO's late founder Paul O'Neill, and his wife Desi, and based on TSO's multi-platinum CD and TV special, "The Ghosts of Christmas Eve," the rock opera features such enduring fan-favorites as "Christmas Eve/Sarajevo 12/24," "O' Come All Ye Faithful," "Good King Joy," "Christmas Canon," "Music Box Blues," "Promises To Keep," and "This Christmas Day." 2022's tour will also boast a rousing second set containing more of TSO's greatest hits and fan-pleasers including "Wizards In Winter," "A Mad Russian's Christmas," and many more.
"It was so special to be back playing live last year. When you love something as much as we do and it's taken away, it made us super thankful to be back. I look forward to seeing all our 'repeat offenders' and all our new friends when we hit the road," said TSO's music director and lead guitarist Al Pitrelli. "I love all of Paul's stories, but 'The Ghosts of Christmas Eve' is one of my favorites and can't wait to unveil this incredibly amazing new show for everyone. We know some people may be having tough times, so we worked hard with the local promoters and arenas to have a low priced $29 ticket to do our part in helping out. God Bless all of you and see you in November and December when we celebrate in-person once again."

Additional Ticket Information
HEALTH & SAFETY REQUIREMENTS
SNHU Arena remains committed to delivering a superior experience. We will continue to follow all government mandates, monitor regulations and local cases to inform our policy and keep events as safe as possible for our fans, artists, and staff. While there are no current federal, state or local government mandates in place, everyone that enters SNHU Arena will be encouraged to wear a face mask or covering.
The COVID-19 pandemic is a fluid situation, and as such, we cannot guarantee that the artist or promoter of the event will not put a requirement for mask use, proof of vaccination or proof of negative COVID-19 test in place at a later date. Please note that government mandates, venue protocols and event requirements are subject to change at any time, so please be sure to check back regularly for updates. COVID-19 vaccination requirements also vary by event, so it's important for you to continue to check your event page on our website to confirm details prior to attending the event.
Please note that the arena will be using the following security procedures for all events at the arena. Please plan accordingly.
Walk thru metal detectors at all entrances of the facility; all patrons will walk through a metal detector prior to gaining access to the arena. If needed, security will perform pat downs on patrons in addition to the metal detectors
Bags larger than 12" x 6" x 12" will not be permitted into the arena, this includes backpacks
SNHU Arena's CLEAR BAG POLICY allows patrons to bring their personal belongings in a clear tote not to exceed 12" x 6" x 12"
Wristlets are permitted but may not exceed 4" x 6" x 1"
Purses, backpacks and diaper bags are no longer permitted inside of SNHU Arena
Camera policy is set by the show, best practice suggests no cameras for events
No weapons of any kind will be permitted into the arena
No outside food or beverage will be permitted into the arena
We are a cashless facility! All points of sale within the venue are no longer accepting cash. Please be prepared to pay with your credit card, debit card or mobile pay. Thank you!
The Arena is a no smoking facility, there is no designated smoking area
We encourage you to plan accordingly for traffic in the City, parking and long lines when entering the arena.